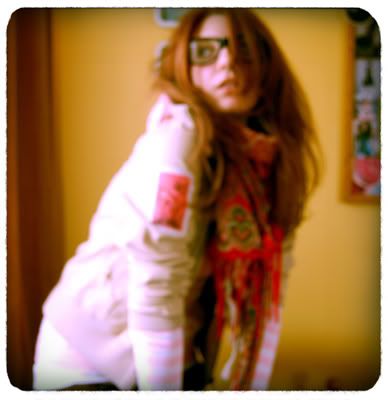 I've been preparing like crazy to open up my Etsy-shop this morning! Making little tags to go along with each package, snapping photos of all my patches, of myself wearing my jacket with a patch-painting sewn onto it, phew!
Can you tell I'm trying to hype my own shop? How cheap of me!
But anyway, I just wanted to show a very blurry teaser photo from my photo shoot. I liked it even though it was way out of focus. It's hard to take good photos of yourself using a timer, and I'm not really a model you know! O__o I actually hate having my photo taken by others. I always look sad and awkward which isn't that strange since thats exactly how I feel once someone puts a camera in front of my face. When I take photos of myself they usually end up looking like amateur-posing which isn't that strange either since, ehm, I'm not a model as I've previously stated, heh.. I love photography though, and some of my friends and my little sister has modeled for me and they do it like professionals in my opinion!
I got a bit off-topic there, I was talking about my shop! I haven't set a time or date when I'm gonna launch it, but it will be soon. Very soon! I'm gonna tell you all about it when it happens..
So now I'm gonna get ready to head of to see G!